PocketBook Reader: How to Comfortably Read Books on Any Device
E-books have long been firmly established in the life of the modern reader as more convenient and cost-saving than paper ones. Once, it was necessary to purchase a separate device to read them. But an ordinary  smartphone and a special application are now enough to comfortably read e-books.
PocketBook Reader is among the most convenient and popular apps. Its main advantage is considered the support of all popular book formats. You can use it to open books in EPUB, HTML, FB2, RTF, MOBI, PDF, DOCX, TXT, and other formats, including CBR and CBZ comic books.
The App's Features
PocketBook Reader is free of charge, but its users will not have to constantly view ads. It features three reading modes, including book and single-page, where the reader can flip through the pages with a touch or a horizontal finger movement. The third mode allows one to scroll through a book vertically. The user can also scroll through the pages by pressing the volume buttons.
The color scheme of the page display is adjusted depending on the lighting. You can change the background or text color. This is made to protect your eyes during prolonged reading. PocketBook Reader allows you to select the night, day, or newspaper built-in theme. The app features a particular function for changing the screen brightness, which can be adjusted manually or work in automatic mode.
NOTE PocketBook Reader is a standalone application that does not require registration and a permanent Internet connection.
The app's interface is based on a universally applied control method in the form of a round menu evoked by tapping on the screen. All the settings are intuitive. A selected menu item moves the user to the corresponding section, designed in the same style. The program supports several languages.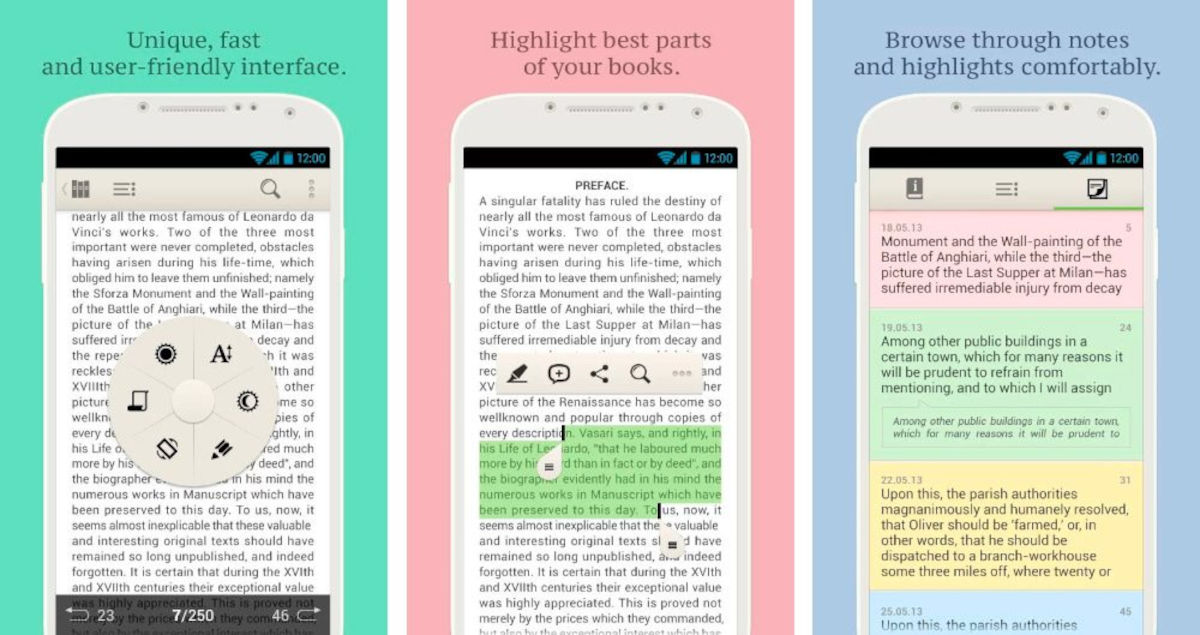 PocketBook Reader has a built-in search function that allows you to find a page or paragraph by word. With the help of bookmarks and notes, you can highlight a certain fragment to quickly find it when necessary.
NOTE In the application, you can listen to audiobooks and leave notes. There is a built-in mode of text-to-speech playback.
The page turn animation creates the feeling of a real touch to a book.
The Main Advantages of the App
Besides the broad functionality in terms of reading various text formats, PocketBook Reader can boast some other undeniable advantages. These include:
Minimalistic but stylish design.
Convenient navigation and file search.
A cloud service to synchronize books on different devices for free as well as save notes and bookmarks.
A set of various reading modes and broad opportunities for configuring text parameters, including font style, margin width, and line spacing.
The built-in dictionaries and an online store where you can buy any book.
A translation tool.
The possibility of creating shared libraries for multiple users using Dropbox and Google Drive cloud services.
Access to web libraries and synchronization with other apps.
The cons of the program include not easy-to-handle functionality and possible issues with full synchronization of books and opening large files.
PocketBook Reader is an excellent application for those who like to read and prefer not to depend on the choice of a format when downloading a book. With this program, you can open any text and customize its display as you see fit.